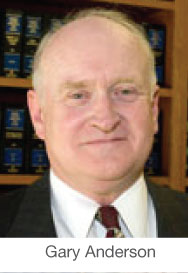 Gary N. Anderson was born in Logan, Utah.  He completed a BA degree at Utah State in political science, with a minor in Russian.  He received his commission as a second lieutenant in the U.S. Army after serving as the commander of the ROTC detachment.
Upon graduation he was accepted into the law school at the University of Utah and worked in a gubernatorial campaign one summer and then the next year as a law clerk at the Attorney General's office.  Upon receiving his law degree, he took the bar examination and while awaiting the results completed officer training in Indianapolis, Indiana.  Successfully passing the Utah Bar exam, he was hired by the law firm of Hillyard and Gunnell in Logan, Utah where he has practiced since that time, specializing in business and estate planning and pension law.  The firm is now known as Hillyard, Anderson & Olsen.
He has been a member of the Mormon History Association for more than twenty years and has presented papers on Cache Valley history.  He authored the pamphlet called "Logan's Historic Main Street" that is distributed to visitors to acquaint them with the history of Logan, Utah.  He also helped produce historical pieces on Logan Canyon and recently worked on a joint effort to produce the "Cache Valley Heritage Driving Tour & Map."
Mr. Anderson has shared his expertise as an attorney in many different civic capacities, including appointments to the Logan City Power Board and the Salt Palace/Fine Arts Advisory Board.  He was a founding member of the Capitol Arts Alliance and the Utah Festival Opera Company and was instrumental in the renovation of the Ellen Eccles Theatre.  He returned to Logan in 1998 after serving as president of the Russia St. Petersburg Mission of the Church of Jesus Christ of Latter-day Saints.  He has served on the Utah State Board of History and is presently serving on the board of the American West Heritage Foundation and the Cache Valley Regional Council.  He is husband to Sheryl and father to five children.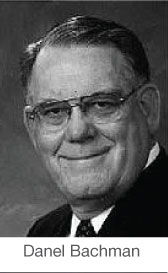 Danel (Dan) W. Bachman was born in Twin Falls, Idaho.  He received a BS from BYU, and his MS in history from Purdue University.  His thesis subject, "A Study of the Mormon Practice of Plural Marriage Before the Death of Joseph Smith," led naturally to a lifetime of interest in the Mormon Temple rituals.  He was elected to the Phi Kappa Phi academic honor society at Purdue University in 1975.   He began a PhD program to study history at the University of Illinois.
He taught in the LDS Church Educational System for thirty‑eight years. He also wrote college curriculum for the Church Educational System.  He was an Instructor at the Logan, Utah Institute of Religion, adjacent to Utah State University for twenty‑two years.  During his career he led several Church Educational System and BYU Travel Study tours to Israel, and co‑directed a BYU semester abroad and two summer terms in the Holy Land.
In 1978 the Mormon History Association awarded him the best article of the year by a junior author for his essay "New Light on an Old Hypothesis: The Ohio Origins of the Revelation on Eternal Marriage," published in the journal of that association in 1978. In addition he has published articles on Mormon history in BYU Studies, The Ensign magazine, and contributed two articles to the Encyclopedia of Mormonism, as well as chapters in several collections of essays.  He was a contributing author of the Church Educational System Church History student manual, Church History in the Fulness of Times, published in 1989.  He has presented papers at a number of professional meetings of the Mormon History Association and various symposia at BYU.  He has held a number of assignments for his Church.  He served as second counselor in the Presidency of the Logan Temple from November of 2008 to November of 2011.  He has compiled a bibliography related to the temple, which has grown to approximately 7,000 items
He married the former Patricia Mae Olsen of Coeur d' Alene, Idaho while attending BYU and they are the parents of four children; two sons and two daughters.  They have 15 grandchildren.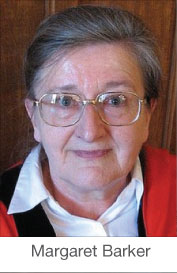 Margaret Barker has developed an approach to Biblical Studies now known as Temple Theology. Margaret Barker read theology at the University of Cambridge, England, and went on to pursue her research independently. She was elected President of the Society for Old Testament Study in 1998, and edited the Society's second Monograph Series, published by Ashgate. She has so far written 14 books, which form a sequence, later volumes building on her earlier conclusions.
Since 1997, she has been part of the symposium Religion, Science and the Environment, convened by His All Holiness Bartholomew I, the Ecumenical Patriarch. This work has led her to develop the practical implications of temple theology as the basis for a Christian environment theology.
In July 2008 Margaret Barker was awarded a DD by the Archbishop of Canterbury 'in recognition of her work on the Jerusalem Temple and the origins of Christian Liturgy, which has made a significantly new contribution to our understanding of the New Testament and opened up important fields for research.'
Margaret Barker is a mother and grandmother, a Methodist Preacher and was involved for over 30 years with the work of a Women's Refuge.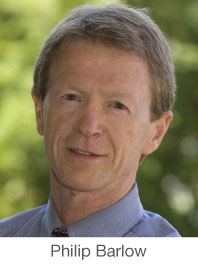 Philip Barlow is a professor in the History Department at Utah State University, and director of the Religious Studies Center.  He holds the Arrington Chair of Mormon History and Culture.  He joined the faculty at Utah State University in 2007. He earned a B.A. from Weber State College and an M.T.S. and Th.D. (1988, with an emphasis on Religion and American Culture and on the History of Christianity) from Harvard University. He spent two years as a Mellon Fellow at the University of Rochester, after which he became professor of Theological Studies at Hanover College in Indiana. He teaches courses in Religious Studies, Mormonism, American religion, and explorations of religion in relation to suffering, time, silence, and film.
While teaching at Hanover College, Dr. Barlow was the recipient of Hanover's Arthur and Ilene Baynham Award for Outstanding Teaching in 1995 and 2001. In addition to articles, essays, and reviews, Dr. Barlow has published Mormons and the Bible: The Place of the Latter‑Day Saints in American Religion (Oxford Univ. Press, 1991); The New Historical Atlas of Religion in America (Oxford, 2000, co‑authored with Edwin Scott Gaustad); and, as co‑editor with Mark Silk, Religion and Public Life in the Midwest: America's Common Denominator? (Alta Mira Press, 2004). He is past president of the Mormon History Association.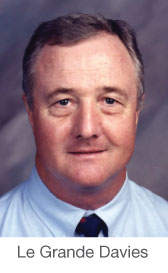 Le Grande Davies received a BA in history from Brigham Young University, and an MA and PhD from the University of Utah in Middle East Studies, specializing in Anthropology and Archaeology.  He spent twelve seasons excavating in Israel at Tel Gezer, Beersheba, Tel Michal, Tel Gerisa, and in Utah at Wilden Fort.  Recently, he was director of the Parley P. Pratt excavation in Arkansas.
His PhD dissertation was on "Serpent Imagery in ancient Israel: The Relationship between the Literature and the Physical Remains."  His writings include articles on Jonah and Isaiah, particularly the Isaiah texts in the Book of Mormon, and Archaeological Reports, including "The Persian Period Cemetery of Tel Michal (Strata XI‑VI)" In the Excavations at Tel Michal, Israel, ed. Ze'ev Herzog, George Rapp, Jr., Ora Negbi, The University of Minnesota Press, Minneapolis, and the Sonia Marco Nalder Institute of Archaeology, Tel Aviv University.
His career has been in education.  He is currently an adjunct professor of Anthropology/Archaeology at Weber State University.  In addition to his dissertation, he has authored or contributed to a number of scholarly publications, particularly in Israelite archaeology.
He has long been active in the Boy Scouts of America, and has served his church in many positions, including bishop of the Timpanogos park 7th Ward, and missionary service to the North Central States Mission.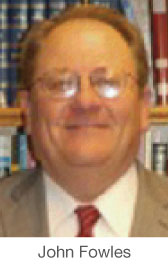 John L. Fowles received his BS and MA degrees from Brigham Young University and a PhD from the University of Missouri‑Columbia in Social Foundations of Education, with an emphasis in Religious Studies. He has taught in the LDS Church Educational System for thirty‑six years, and is currently an instructor at the Logan LDS Institute of Religion adjacent to Utah State University.
He is the author of "Zenos' Prophetic Allegory of Israel," in A Symposium on the Book of Mormon (Salt Lake City: Church of Jesus Christ of Latter‑day Saints, CES, 1986); "The Decline of the Nephites: Rejection of the Covenant and Word of God," in The Book of Mormon: Helaman through 3 Nephi 8, According to Thy Word, edited by Monte S. Nyman and Charles D. Tate Jr. (Provo: Brigham Young University Religious Studies Center, 1992), 81‑92; "The Jewish Lectionary and Book of Mormon Prophecy," Journal of Book of Mormon Studies 3 (Fall 1994): 118–122; "Missouri and the Redemption of Zion: A Setting for Conflict," in Regional Studies in Latter‑day Saint Church History: Missouri, edited by Arnold K. Garr and Clark V. Johnson (Provo: Department of Church History and Doctrine, Brigham Young University, 1994), 155‑171; "John's Prophetic Vision of God and the Lamb," SBSS 1998, 74– 82; and, with Newell K. Kitchen, "Finding the Haun's Mill Face Wheel," Mormon Historical Studies (Fall 2003).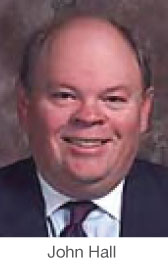 John F. Hall is Professor of Classical Languages and Ancient History at Brigham Young University. He received a B.A. in Ancient Languages, summa cum laude and highest honors, with a University Scholar designation from Brigham Young University in 1975; an M.A.and Ph.D. from the University of Pennsylvania in Ancient History in 1978 and 1984.
Professor Hall was for many years executive secretary of the Classical Association of the Middle‑west, West, and South (CAMWS), eventually serving as its national president in 1996‑1997. He also served as a long‑time member of the Board of Directors of FARMS (Foundation of Ancient Research and Mormon Studies) and was department chair of the Department of Humanities, Classics, and Comparative Literature at Brigham Young University.
The author of many articles in academic journals ranging from the American Journal of Archaeology to the Aufstieg and Niedergang der Romishen Welt, Professor Hall is best known as author of book length studies on Roman history, early Christianity, and the New Testament, including Etruscan Italy, The Municipal Aristocracy of Etruria, Masada and the World of the New Testament, Charting the New Testament, and New Testament Witnesses of Christ: Peter, John, James, and Paul. He is also the editor of and contributor to Apostles and Bishops in Early Christianity (Collected Works of Hugh Nibley, vol. 15).  At present he is at work on two volumes of the BYU New Testament Commentary Series: volume iv, The Gospel of John and vol. xiv, The Epistles of John.  He has also presented at Dr. Margaret Barker's annual London Temple Studies Symposium, in 2009 reading "The Anointing of the Gods: Temple Sanctification from Egyptian Pharaohs to Hebrew Priest Kings and Beyond."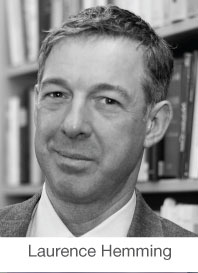 Laurence Hemming is Research Fellow at the Department of Organisation, Technology and Work in the Management School of Lancaster University.
Previous appointments include Research Fellow in the Institute of Advanced Studies, Lancaster University; Dean of Research at Heythrop College, University of London; and Research Fellow at St. Mary's University College, Strawberry Hill. He has also been a Guest Professor and Research Fellow at the Catholic University of Leuven.
Dr. Hemming holds a Ph.D., University of Cambridge (Peterhouse) 1999; a M.Phil., University of Oxford; B.A., and (M.A.) in Philosophy and Theology, University of Oxford (Oriel College).
He has held positions at Lancaster University Institute for Advanced Studies, St. Mary's University College, London: School of Theology, Philosophy, and History, and was Dean of Research at Heythrop College, University of London, and a Research Fellow and Guest Professor, Catholic University of Louvain.
He has been the editor of two book series, one for T&T Clark and one for Notre Dame University Press, as well as editor of a peer‑reviewed academic journal (Maney Publications).
He is a recognized expert on Heidigger, and is the author of a number of books and articles, including Worship as a Revelation (2008).
Among his languages are Latin, Ancient Greek, German, and French.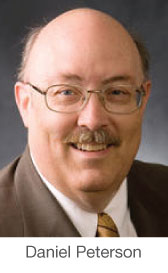 Daniel C. Peterson  (Ph.D., UCLA) is a professor of Arabic and Islamic studies at Brigham Young University, and is the founder and editor in chief of the University's Middle Eastern Texts Initiative, which publishes dual‑language editions of classical Islamic, Jewish, and eastern Christian texts.  (The resulting books are distributed through the University of Chicago Press).  He is a former chairman of the Board of Directors of the Foundation for Ancient Research and Mormon Studies (FARMS), and, until very recently, served as the Director of Advancement for its successor organization, the Neal A. Maxwell Institute for Religious Scholarship.  From 1988 until June 2012, he edited the FARMS Review, recently renamed the Mormon Studies Review.  He is the author of numerous books and articles on Mormon and Islamic topics, writes a weekly column and a biweekly column for the Deseret News, and blogs daily on Patheos.com.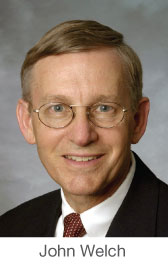 John W. (Jack) Welch is the Robert K. Thomas Professor of Law at the J. Reuben Clark Law School, where teaches a variety of courses on tax exempt organizations, ancient laws in the Bible and Book of Mormon, and Joseph Smith and the law. He was educated at Brigham Young University with a B.A. in History and M.A. in Classical Languages, filled an LDS mission in South Germany (during which he discovered chiasmus in the Book of Mormon), studied Greek philosophy at Oxford University as a Woodrow Wilson Fellow, earned his law degree at Duke University (where he served as articles editor of the Duke Law Journal), and practiced law in the Los Angeles firm of O'Melveny and Myres.
He is well known as the founder of FARMS (the Foundation for Ancient Research and Mormon Studies), and since 1991 as the editor-in-chief of BYU Studies, the leading Latter-day Saint scholarly journal. He also has served as the general editor of the Collected Works of Hugh Nibley, and as a member of the board of editors for Macmillan's Encyclopedia of Mormonism.
He has authored or edited a number of books and articles, many of which deal with temple themes. His book, The Sermon on the Mount in the Light of the Temple (Ashgate, 2009), has been reviewed in the Heythrop Journal as "a profoundly erudite and deeply meditative argument for the Temple as the chief referent behind many of the words, phrases, and longer quotations from the psalms and other (chiefly prophetic) Old Testament books that for the first time unifies this otherwise puzzling and disjointed piece [Matthew 5-7] and accounts for the power and authority of the preaching of Jesus over which the crowds marvel immediately afterwards." In other notable works, he has analyzed the parable of the Good Samaritan as an allegory of the plan of salvation, the legal role of miracles in the trial of Jesus, the temple in the Book of Mormon, and the role of evidence in the nurturing of faith.
He is married to Jeannie Sutton, who teaches French at BYU. They have four children and sixteen grandchildren. He is an avid skier and enjoys family boating and traveling. He has served twice as a Latter-day Saint bishop and as a counselor in a stake presidency.